so while im sitting here trying to decide what are my favorite horror movies of all time...i suddenly get a flash of a flick long forgotten. A flick that failed at even the most rudimentary photoshop and cgi effects...all though given a budget large enough to air commercials on primetime tv. (thats what got me) a script that could've been written by a 7th grader and a cast that belongs in commercials or infomercials...that might be a little harsh, ok a cast that belongs in straight to dvd flicks. which should have included this movie but somehow it made it to the theater. i am in fact quite happy about the fact that i didnt go watch this in the theater, not only would i have been ashamed, and ridiculed by everyone who knows me, but i would probably have been impeached.
this 90 minute barrage of modern day fuckery, is none other than....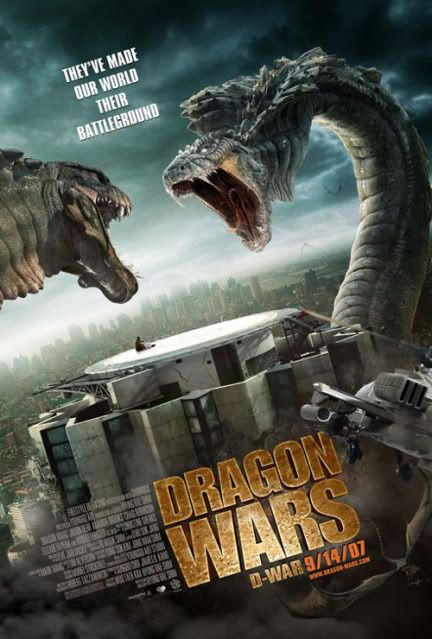 90 minutes. such a minute fraction of time when you compare it to the grand scale of how many hours we spend not really doing shit in the first place right? i mean...i have spent more than ninety minutes trying to decide what i want to eat for dinner, or thinking about how amazing it would be to grow a mullet, perm it, dye it ancient man white and put lightning bolts in the side. actually i probably spend more than ninety minutes a day thinking about that.....hmmmmmmmm.....the possibilities.
anyhow, back to this motion picture equivalent of scat porn, i was fucking amazed at the sheer lack of any sort of aspiration show by anyone remotely associated with this film. i actually meant to write this awhile ago but figured there had to be something worse, i tell you my friends there is no way in hell someone can top this syfy debacle. lets start off by going into the special effects since as technology progresses special effects have become a huge part of why i watch movies. cgi is the eye candy for imagination. if done properly it can make a movie rating of a 6 get a 7-7.5. (atleast in my opinion) special effects main purpose is to capture what your imagination cant, atleast in a movie. when i read the book Dreamcatcher i almost had the exact same images in my mind that the movie portrayed. win. i dont know if there was a book for Dragon Wars but i can only imagine what kind of spunk dripped on paper pages that couldve been but i assure you my imagination wouldve atleast done a better job visually.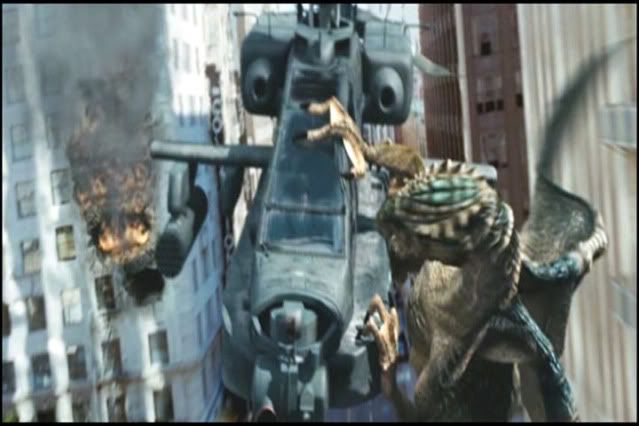 its shit like this dragon wars...the lighting is fairly good but to me doesnt resemble any species of dragon that i have encountered.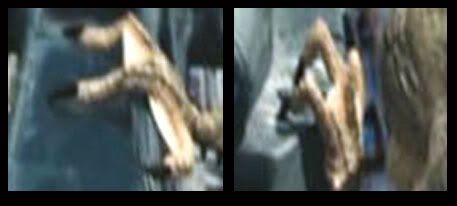 let me get this straight this 5 ton dragon (approx) is clutched to the side of an apache cuz its that strong but it is incapable of piercing the windows or armor? the raccoon, that we affectionately named George Cooney, in my back yard that i feed meatloaf and human growth hormones has latched onto my truck and that little beast weights 50lbs soaking wet.
actual picture of my truck. arrows pointing to obvious 47lb raccoon claw marks embedded in side of truck. (me in reflection proves picture is authentic)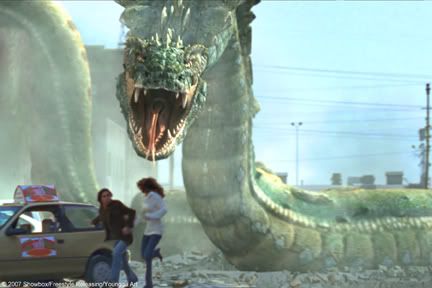 how about this little gem? actually not to bad looking as a still picture. actually...this picture probably doesnt prove my point...
but this does...

WHERE DID THE FUCKING TAIL GO DRAGON WARS???
in conclusion, besides being riddled with an all star cast including that one guy from Roswell, Max Cherry from Jackie Brown, and motherfucking Darryl...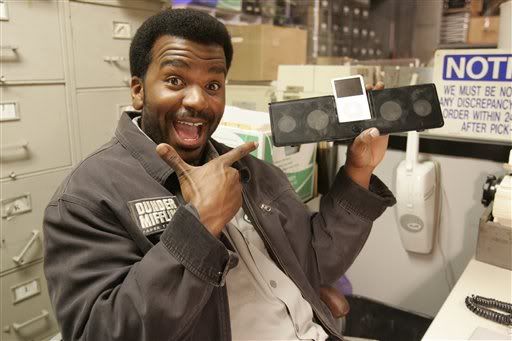 this movie was worse than having leeches shoved into my urethra.
did i mention that this delightful montage of poop was the 2008 nominee for best visual effects at the asian film awards? <- meanwhile in asia....
one more thing...was the "D-WAR" after the title really necessary? for fucks sake...